This post is also available in:
Spanish
From the agave plant to the finished bottled spirit: high-quality tequila is produced in a complex, multi-stage process. Shown in the double portrait are Servando Calderon Vazquez, Sauza Tequila's Director of Operations (left) and Markus Riepe, Contract Logistics Director at DB Schenker Mexico
Of course, the production facilities have been upgraded time and again in order to keep up with modern technology. The product specification has also been tightened over the years – not least thanks to the urging of Sauza Tequila: in the 1970s, Don Francisco Javier Sauza, the then CEO of the company, lobbied the Mexican government to legislate that authentic tequila must come from the town called Tequila.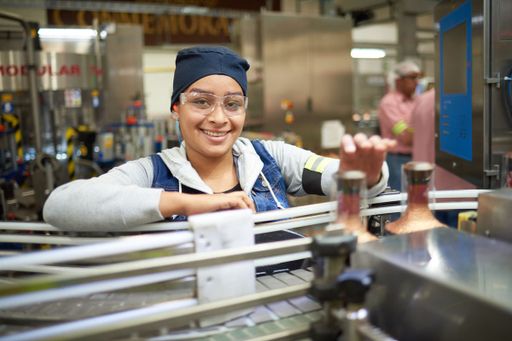 Also laid down in the legislation is the variety of the agave plant to be used in the production: the Agave tequilana, or 'Weber Blue Agave.' More specifically, at least 51 percent of the sugar turned into alcohol must come from this variety of the agave plant, while the remaining 49 percent can be produced from sugar of a different origin (for comprehensive information on the production process please see box below).
Production is monitored by the state authority Consejo Regulador del Tequila. "There is a broad division into two categories: '51%' and '100% agave'," says Servando Calderon Vazquez. The raw material for the Sauza Tequila spirits comes from the company's own plantations, which the manufacturer operates with a workforce of around 500 employees.
Another 170 people work at the distillery. Led by a team of experts with master degrees specializing in the production of tequila, they produce spirits that are marketed under the "Sauza" label, with Sauza XA being a premium product made from 100 percent agave sugar. Other brands are Hacienda, Hornitos, and the triple-distilled Tres Generaciones. "Each tequila has its own profile with different notes – but the agave flavor is always the main note," explains Servando Calderon Vazquez.
"La Perseverancia" is the only distillery in Tequila where production and bottling happen under one roof. From there Sauza Tequila, which has been part of the Beam Suntory spirits group for several years, delivered more than 3.2 million cases that usually contain either six or twelve bottles each in 2017. "Added to that are bulk shipments of '51%' tequila that are sent to the United States as well as to Spain and Japan for bottling," explains Servando Calderon Vazquez. Currently around 30 percent of their total production is destined for the domestic market, and 70 percent is exported.
This is where DB Schenker enters the frame. They first of all transport the company's products within Mexico. Much of the merchandise goes to duty-free shops at Mexico's airports, according to Servando Calderon Vazquez. However, the company's main role is that of a contract logistics provider: 45 minutes by road from Sauza Tequila's production site, outside the megacity of Guadalajara, DB Schenker has opened a dedicated warehouse for this customer.
Inside the large facility with a floor space of over 4,600 square meters (50,000 square feet), all products destined for export are stored and prepared for shipment – including the preparation of freight documents for the more than 70 target markets on all continents. In doing so, the team members work hand in hand with the Consejo Regulador del Tequila: the government agency, which occupies its own dedicated space at the warehouse, monitors compliance with production standards as well as product exports.
"In 2016 we were on the lookout for a new third-party logistics provider by issuing a request for tender," says the Director of Operations. "We found DB Schenker, a globally active provider with high-quality services and standardized processes, to be a compelling candidate." The collaboration quickly turned out to be just as Sauza Tequila's executives anticipated. And what's more, it is set to become even closer: "We are currently working towards expanding the warehouse," says Servando Calderon Vazquez. It is therefore more than likely that the "Taste of Mexico" will make the DB Schenker team even busier than it is already.
---
How Sauza Tequila is made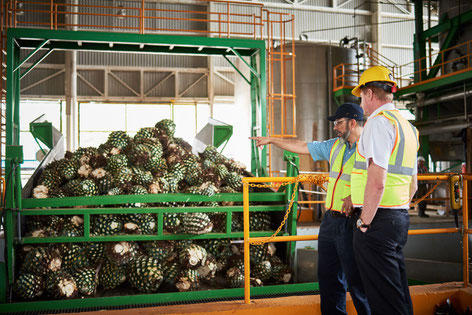 HARVESTING The agave plants mature at Sauza's plantations for six to seven years until their fruits, the "piñas," are ready for harvesting.
SHREDDING By shredding the piñas using three separate processes, the fibers are prepared for the subsequent extraction of the sugar.
EXTRACTION A diffuser gently extracts the sugar, producing a solution of water and agave sugar; the agave juice is then obtained from the solution.
COOKING Agave contains complex sugars that must be transformed into fermentable sugars through a hydrolysis process that takes six hours.
FERMENTATION Anaerobic fermentation is carried out in stainless steel tanks through the admixture of a proprietary blend of yeasts and nutrients. It is a process made up of several stages of 24 to 28 hours each and at temperatures ranging from 32° to 37°C (89.6° to 98.6°F).
DISTILLATION The primary stage of the distillation process takes place inside steel distillation columns: water is removed, leading to a higher concentration of the alcohol in the fermented agave juice. The secondary stage takes place in stills and produces tequila with a range of between 55–65% alcohol, depending on the brand.
FILTRATION Tequila is always filtered, using methods that can differ slightly. Sauza uses carbon filters at cold temperatures. This removes the excess fatty compounds that would otherwise give tequila a cloudy appearance.
AGING "Reposado" tequila is aged in white oak wood barrels for at least 2 months. "Añejo" tequilas are stored for at least 12 months, and "Extra-añejo" tequilas are stored for at least 36 months.
BLENDING & ASSEMBLING In this process, demineralized water is added to the tequila in order to adjust its gradation. Tests are conducted in order to ensure consistency in accordance with Sauza's standards.